1085 S. 10th Ave. | Tucson, AZ 85701 | Office: (520) 225-1500 | Fax: (520) 225-1501 |
Email Drachmail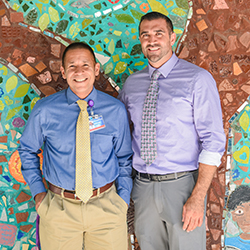 Our Principal, Dr. Celaya, with our
TUSD Superintendent, Dr. Trujillo




Maria Montessori,
Creator of the Montessori Method
What Makes Us Special
Drachman Montessori's multi-age classes result in student collaboration and peer teaching. Children are challenged and motivated by witnessing higher-level learning. Students hone their academic and leadership skills by teaching others.

Montessori materials are essential to our student's success. With the use of hands-on Montessori learning materials, abstract concepts become more concrete. Children experience higher level learning at a younger age, moving toward abstraction with fluidity.

Students and teachers collaborate to design individual work guides, which facilitate the children's ability to choose appropriate learning materials. Allowing students to collaborate and assist one another increased academic and social learning. This builds community and promotes high expectations of scholastic achievement, maturity, and empathy. The children benefit from an aesthetically pleasing and organized learning environment, and they proudly take an active role in maintaining it. Students who have experienced a Montessori education become peaceful, responsible, caring citizens.
Follow Us on Social Media!